Wondering how you can bring your community together with some fresh virtual event ideas? We've got you covered.
With the rise of virtual events and the non-ending list of platforms to choose from, the opportunities are endless; whether it's a weekly Instagram Live series or a one-time private Zoom chat.
In this article, we will share some virtual event ideas and tricks; so you can use them to interact with your community and increase engagement.
Why You Should Host a Virtual Event
In 2020, virtual events are where it's at. It may be difficult for us to come together in real life right now, but you can still connect with your community — although differently. 
So how do you jump on this buzzy trend? 
Begin with brainstorming. Are you looking to educate your audience? Host a Q&A? Promote your latest product?
Once you've defined your purpose, you can begin planning the rollout. And as you know, virtual events give you the ability to bring people together from all over the globe by keeping the location barriers aside.
One thing to keep in mind? Time zones. If half of your audience is on the other side of the globe (different time zone) and the other indifferent, it may be a struggle to get everyone connected at the same time.
But, with a little time-zone Jenga and the benefits of screen recording and saving, you'll be able to include and cater to your entire community. Just keep your audience informed that recording will be shared post-event.
Another added benefit? It's cost-efficient. Your virtual event plan will help you exclude the budget for venue rentals, food vendors, decorations, and more.
Plus, this means there's an opportunity for tickets to be cheaper (or even free) for attendees — making it a serious selling point! 
#1: Host Regular Instagram Live Sessions 
Popular brands and businesses use Instagram Live popularly as a hub. It's an incredible way to host virtual events or interactions with your community.
With Instagram Live, there is no redo or option to pre-record segments — everything happens to live and on the spot. 
While it may sound scary, this platform works for several different virtual events. Let's get into them. 
Instagram Live: Q&As
This is a great opportunity to host a Q&A series by inviting guests your community would be interested in hearing from. You can source questions from your audience before the event, and allow questions to be asked during the live stream.
Take Well+Good's new Glowing Live with Latham series. They partnered with doula and author, Latham Thomas, to host a show where she speaks with various people in the wellness industry who are working to create change.
One can also share posts leading up to the life to build excitement among the community and share additional information — such as announcing who the invited personalities. 
TIP: Remember, quality over quantity. If you don't have the bandwidth to create a weekly series, that's okay! It can be monthly or quarterly — as long as it's consistent and you promote it.
Instagram Live: Concerts & Fun Battles
Just because we can't come together to enjoy music in person doesn't mean you can't facilitate that same energy online!
Verzuz TV rose to prominence during the COVID-19 quarantine, and pairs up prominent producers, singers, or songwriters to compete and see who has the better catalog. The battles are so popular that they receive millions of views. 
Why does it work? Because it allows fans to attend a battle between some of their favorite artists, engage with each other in the comments, sing-a-long at home, and eagerly anticipate the next one. Likewise, a restaurant could "pit" two chefs together and host the ultimate cook-off by challenging them to create a dish using the same ingredient. The audience would be encouraged to watch and vote for their favorite in the comments. And who knows? Maybe they'll create a new dish for the menu in the process. It's a win-win.
Friendly competition helps you engage your community in a great way and makes them feel like they are involved.
Instagram Live: How-to's & Demos
You can bring the community together and walk the audience through a demo or tutorial of Insta Live.
This can be anything from a tutorial to explaining how-to bake the perfect cookies.
That Cheese Plate does an incredible job of captivating their audience on Instagram Live with their series, "That Happy Hour."
In the Instagram Live sessions, they invite different guests to chat and create amazing stuff.
To have perfect engagement with their followers, they release the ingredients to be used beforehand so their community can follow along in their kitchens at home.
Hosting a how-to on Instagram Live creates an additional layer of connection between you and your audience as they're able to put a face to your brand's name and learn something new in the process.
.Also read – 8 Instagram Features Perfect For Small Businesses
#2: Host a Private Zoom Chat
One of the companies which boomed in 2020, Zoom offers businesses the ability to host all kinds of virtual events, like webinars, demos, classes, Q&As, courses, and more.
Plus, thanks to the ability to set a password to enter the call, you can easily moderate the event and maintain exclusivity.
A wellness company, The Villij frequently hosts "Villij Talks" where they interview nutritionists, therapists, and more on Zoom.
They promote the interviews on Instagram, encourage their community to RSVP, and include relevant details about time and topic.
Post-event, they share a recap clip on their Instagram feed for those who may have missed it. Not only is it a creative way of repurposing the content from the event; but it also incorporates the carousel feature. The feature makes it highly influential and shareable , thus increasing engagement and reach.
Another way to host an exclusive virtual event on Zoom is by Chanel Tyler. They keep a limited number of attendees in the event.
Chanel's "Skin formation Class," 1-hour skincare and routine educational course, is a small and intimate virtual event ; only open to 30 attendees.
The limited size allows for deeper connections and conversations with her attendees. And as its popularity grows, she can host multiple limited sized virtual events throughout the month.
TIP: Start small to get an exact idea about your community's interest in the virtual event. If tickets sell quickly, you'll know you're onto the right track!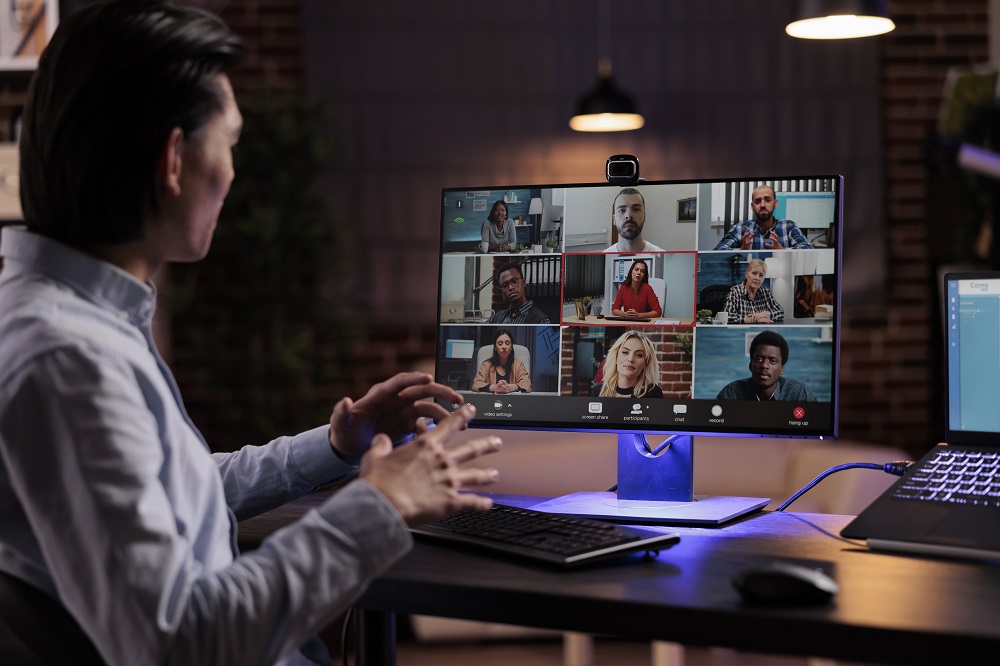 #3: Go Live with Your Facebook Community
Similar to Instagram, Facebook Lives is a great platform to host your next virtual event.
You can use Facebook Live for tutorials and demos, but you can also use it for hosting Q&As.
A paid integration tool, LiveReacting lets you add interactive options and graphics to your Facebook Live — including personalized quizzes.
For example, Each Facebook Live by "Kobo Live Book Quiz" featured a new book-related theme. All audience members competed for a chance to win gift cards and rewards.
Quizzes are perfect for increasing engagement on your Facebook page. Not only does the competition aspect encourage your community to get involved; but the addition of giveaway ups the ante and allows you to subtly promote your product and its benefits.
You could also offer a promo code at the end of the quiz; to those who played until the very end. It's a nice way of saying thank you and to convert attendees into customers.
#4: Connect with Your Community in Facebook Messenger Rooms
Earlier this year, Facebook launched Facebook Messenger Rooms, a new way for brands and businesses to connect with their community.
You can imagine it as an informal conference call with up to 50 people at once (and no time limit!).
On Facebook Messenger Rooms one can have more intimate conversations, which makes it different from Facebook Live. For example, you could invite new members to a Messenger Room. Thus, allowing them to meet each other and start building "face-to-face" interactions.
Another benefit of using Facebook Messenger Rooms?
It isn't exclusive to Facebook users. You can also invite people who use WhatsApp, Messenger, or Instagram — all they need is the room link.
Rather than driving traffic to a newly booming video app, like Zoom; your audience can join from platforms they are already familiar with, and comfortable using.
TIP: Add a layer of fun by encouraging attendees to use augmented reality filters; or better yet, create your own specifically for the event.
#5: Humanize Your Brand with LinkedIn Live
Recently, LinkedIn announced its unique way to build brand connection and engage with your audience: Linkedin Live. According to LinkedIn, LinkedIn Live streams get on average twenty-four times more comments than native videos; all produced by the same brand.
Various company releases and communications can be done with LinkedIn Live; as announce products, show behind-the-scenes content, or hold career tips sessions and Q&As with their CEO and other executives.
Spotlighting employees humanizes your brand and raises awareness about your corporate culture. Not only that but job seekers gain valuable insight into the skills you'd be looking for.
Another way to humanize your brand? A LinkedIn Live series.
Featuring a different employee every episode, they could talk about their career journey, missteps, successes, and answer questions.
It will position them as industry experts, and differentiate your business from others in the industry.
TIP: LinkedIn is still piloting live video streaming. So before you start planning, remember to fill out an application form and request access to become a broadcaster.
If you're thinking of planning a virtual event, these virtual event ideas can be the start for your brainstorming session!
Whether it's hosting a tutorial on Facebook Live or using Zoom for a private Q&A room; virtual events can help you connect with your audience in a cost-efficient way.

Also read – 5 Cool LinkedIn Features In 2020