While they might not always be obvious, there are a lot of perfect Instagram features for small businesses that can help you grow online. Whether you want to strengthen your community, build brand awareness, or even make e-commerce sales, there's an Instagram feature to help you achieve your goals. Ready to get started? Discover our top 8 Instagram features for small businesses in this blog post.
Why Use Instagram for Business?
Instagram is a powerful tool for any brand or business, especially after the platform's recent foray into e-commerce. Not only can brands build thriving communities on Instagram, but they can also now showcase their inventory in "shops" and process transactions directly within the app.
Essentially, Instagram is becoming the new, online home of shoppable inspiration. If you also want to make your business visible on Instagram and other social media platforms, then ABmedia can be a better option for you.
Know more about our social media service.
Social Media Having a strong online presence can be a serious advantage for brands. As recent times have shown, businesses can't always rely on individual sales or events to drive operations, which makes Instagram an extremely valuable safety net.
Here are 8 Instagram features that are perfect for businesses looking to grow online:
Instagram Shopping
Link in Bio
Instagram Live
Gift Cards and Food Orders
IGTV
Poll, Slider, Question, Quiz, and Countdown Stickers
Pinned Comments
Instagram Stories Highlights
Instagram Features for Small Businesses
Also, read – How does the Instagram algorithm work?
#1: Instagram Shopping
If your business relies on selling products, Instagram's shopping features could be perfect for you.
Instagram is continually unveiling innovative e-commerce features as it looks to find new ways to support businesses on the app.
Businesses can now tag shoppable products in feed posts and Instagram Stories, as well as have an "Instagram Shop" discovery tab on their profile to showcase in-stock products. Instagram Shoppable Posts make it easier for people to shop featured items by viewing "tagged" products in posts, while Instagram Stories Product stickers are tappable stickers that can be used to make your stories content shippable. And now thanks to Instagram Checkout, customers can discover a product and complete the payment process without ever leaving the Instagram app.
Instagram's shopping features essentially make the journey from discovering inspiration on the app to purchasing much more streamlined, which is great for any business looking to increase sales.
Instagram is also rolling out the functionality for influencers to drive sales through checkout on behalf of brands.
With Instagram's Shopping for Creators feature, influencers, and content creators can now add product tags from their brand partners to their Instagram posts and stories — creating a complete e-commerce marketplace.
NOTE: Instagram Checkout and Shopping for Creators is currently only available to eligible brands and influencers in the US. However, we're expecting these features to be rolled out more widely shortly. Stay tuned!
#2: Link in Bio-
Instagram's link in bio is an amazing feature for brands looking to drive traffic from the app, and one that is often underutilized.
The link in your bio is super easy to find and promote, making it one of the most valuable traffic drivers on your Instagram profile.
And the good news is, there are tools out there to help you get even more from the link in your bio.
For example, Link in bio by Later allows you to turn your whole Instagram feed into a clickable landing page that updates with every new post you share.
#3: Instagram Live-
Instagram Live is a great tool for businesses looking to build meaningful connections with their online community.
In recent months, Instagram Live usage has skyrocketed — with brands pivoting to lifestyle-orientated live broadcasts instead of in-person events. By bringing people together in this way, businesses are strengthening their community and showing a much more human and authentic side to their brand.
For example, Revolve regularly hosts fitness workouts, Q&A sessions, and styling tutorials on their account — providing value to their audience beyond selling products.
And the Instagram Live trend is one that's likely to stick around, with Instagram releasing several new features that are perfect for businesses on the platform:
Instagram Live Shopping Soon, businesses will be able to share direct links to shoppable products during their Instagram Live broadcasts. Product links will be shown at the bottom of the video stream, so people can easily tap to learn more or "Add to Bag."
Tina Craig (@bagsnob) was one of the first to use the new Live feature promoting her latest product launches from her brand @ubeauty.
NOTE: This feature is currently only available to accounts with access to Instagram Checkout.
#4: Instagram Live Badges
If your business is all about the service you provide, Instagram Live Badges could be a great new way to earn on Instagram.
The concept of "badges" plays off a popular feature within Twitch and Youtube, which allows followers to "support through tips" creators during live streams. And now this feature is coming to Instagram!
Talking about why Instagram has developed this new feature, Instagram's Youshaei explained: "Ultimately, you need to make money to be sustainable — so you can continue your passion and turn it into a profession."
It's reported that initially, hosts will receive 100% of the revenue from Instagram Live badges sales.
Hosts can see how many hearts a viewer has purchased thanks to a visual icon in the chat stream, making it easy to see who is supporting them for a shout-out.
NOTE: Instagram is still rolling out Instagram Live shopping and badges, so if you don't have access yet — sit tight! They should be coming your way soon.
#5: Gift Cards and Food Orders
In a direct response to COVID-19, Instagram has rolled out 2 new features for small businesses: Gift Cards and Food Orders.
Gift Cards are a new way for businesses to sell redeemable vouchers on the app, available via a profile button or a new Instagram Stories sticker.
While Food Orders provide a new way for businesses in the hospitality sector to drive awareness of their food delivery services.
The new profile button and Instagram Stories sticker can be used to place orders through Caviar, ChowNow, deliver.com, UberEats, GrubHub, Seamless, Postmates, Doordash, and more.
#6: IGTV
IGTV is an incredible channel for showcasing products, interviews, and tutorials — the kind of content that resonates with audiences and can help build long-term relationships.
And although IGTV is still new territory for many, the brands who have embraced this channel have seen huge success.
For example, SilkFred shares quick styling tutorials on IGTV, all shot on mobile. These quick videos are fantastic for showing SilkFred products in action, while also showing the faces behind the brand.
Plus, IGTV video descriptions can contain clickable links — making it easy for viewers to discover and shop the products featured in your videos!
#7: Poll, Slider, Question, Quiz, and Countdown Stickers
Instagram Stories are a great way to encourage engagement and collect customer feedback for your business — especially if you tap into the many Instagram Stories stickers on offer. From quick polls to fun quizzes, stickers provide an easy way for your followers to interact with your brand, and they can be a great way to understand what your audience wants..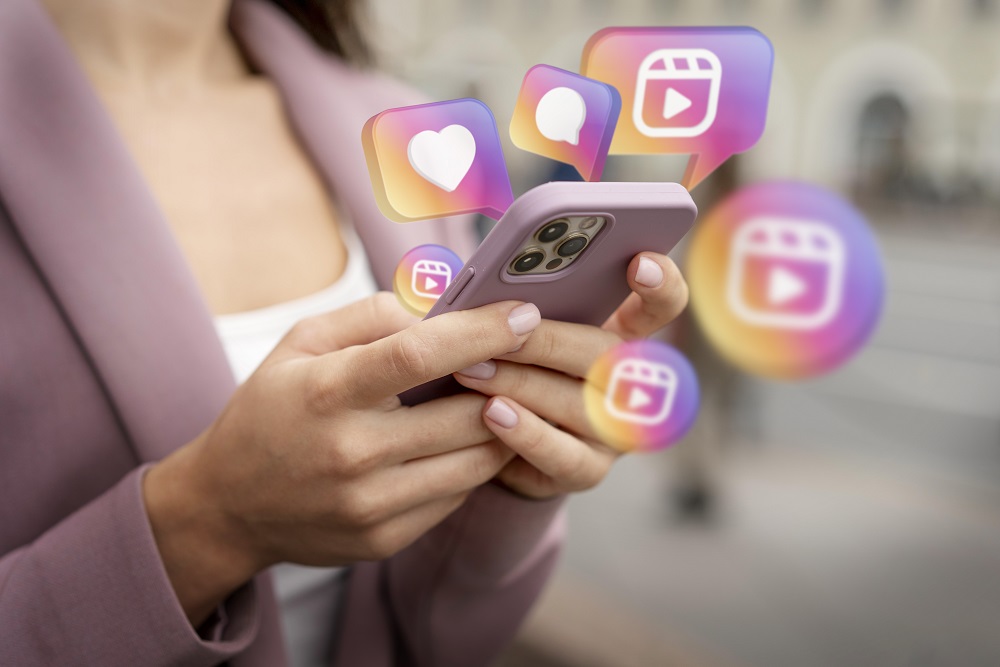 Here are just a few of the Instagram Stories stickers that are great for business:
#1: Poll Stickers
Poll stickers are one of the quickest and easiest stickers for your followers to get involved in, making them a great option for an instant engagement boost. Polls are a fantastic way to drive more audience interactions, and often the simplest ones work best.
For example, brands regularly share polls to ask which color product they like best. These may seem like basic points of conversation, but this is an extremely effective way to create a more personal connection.
#2: Slider Stickers
Another easy engagement opportunity for stories is emojis slider stickers. They can be surprisingly versatile thanks to the huge amount of emojis on offer.
Not only are they great for getting a quick sentiment reaction, but they can also be used more creatively.
Many decent brands regularly use poll and emoji slider stickers to allow their audience to interact, or tell them about what type of content they want to see next.
This creative solution is great for making viewers feel personally involved, which is an effective way to build a loyal and engaged community.
#3: Question Stickers
Question stickers have been hugely popular since their release last year — and for good reason, as they're awesome for encouraging interactions and gathering feedback.
You can easily reply to any submissions directly via DM, or in a new Instagram story like @asos below:
Sharing responses publicly in this way can be an effective strategy for generating hype — especially if you receive comments endorsing your brand or products. Plus, it's a great way to show you're actively listening to your audience.
#4: Quiz Stickers
If you're looking for a quick and fun way to encourage more clicks from your audience, Quiz stickers are where it's a
They can also be a fun and light-hearted way to communicate your brand story or details about a new product launch.
#5: Countdown Stickers
The Countdown sticker does exactly what it says on the tin, which makes it an awesome tool for building hype around an upcoming product launch or event.
TIP: Encourage your followers to tap and set a reminder for when your countdown ends to make this sticker even more valuable for your brand!
#6: Pinned Comments
Pinned comments are one of Instagram's newest features, and it's an awesome way to set the tone for your brand and community on the platform. For example, you can choose to pin positive comments that endorse your products, or ones that champion your brand values. Plus, by curating your comments in this way (Instagram currently allows up to 3 pinned comments on any post) you can divert attention away from trolls or spam bot comments — which can harm your brand perception.
#7: Instagram Stories Highlights
As we've already covered, Instagram Stories are a valuable tool for business — and Instagram Stories Highlights are the best way to extend their 24-hour shelf life. With this in mind, it's a good idea to prioritize the Instagram Stories Highlights that drive the most conversions for your brand.
For example, KOTN has a sale highlight right at the start of their reel: Your highlights are also a great opportunity to strengthen your visual branding on Instagram, as you can create Instagram Stories Highlights covers that support your aesthetic.
To summarize, Instagram is full of tools and features to help your business grow. And as the platform continues to evolve, we expect to see more and more features to help businesses thrive online.
There's never been a better time to get started!