Content creation standards have reached several heights in recent times. A creator has to push the envelopes continuously to cope and match the changing trends of the market. The money-spinner aspect of content creation is now filled with techy challenges, competition, and pollution. Huge alternatives and substitutions have made the market vast. The consumers of content now have a huge number of alternatives available at their fingertips in real time. Therefore it becomes important for a content creator to grab the attention of the viewers at first sight. And now to tell you the truth; for your quest of adding new ornaments to your content creator tools kit, you've arrived at the right destination!
Here is the list of a few pocket-friendly tools for budding content creators which can make their content stand out:
1: Ring Light 
When controlling the room light gets tricky, the ring light system is your real-time savior. A combination of ring light and a tripod can do the trick, and make things smoother. Every time you roll with the ring light set, you create brighter aesthetics for your viewers. It makes sure you have hands-free fidelity to create more engaging content.
The ring light tripods even come with a set of options; such as making your control access to the warmth or coolness of your shot, as well as a remote clicker for seamless content control. 
2: Softbox Lighting Kit
A must-have tool for displaying scintillating graphics to the viewers. Most of its variants contain two softbox lights; which can transform your comfy living room into the professional studio in no time. 
Get a softbox placed near the content to be shot with some effects of soft and diffused light.  Softbox is a blessing for every content creator who struggles on dark or gloomy days. You can always choose a neutral daylight-balanced bulb to make it look more realistic; thus, avoid adding an unwanted tint to your product. 
3: Flexible Tripod
If you're into photography you must be already familiar with the tactics of tripods when capturing landscapes and portraits. Trying a MACC (Multi-Angle Center Column) tripod can make your styled shots look outstanding in your competition.
This tripod will enhance your ability to take shots and give you a wider range of motion. It shall also simultaneously stabilize your camera.
It may help you to bid goodbye to yawningly-awkward squats and back pain, resulting from hunching over difficult shots. This tripod is the hands-free answer for every shot. 
4: Microphone
From narrating video content, recording tutorials, or even being a guest on someone else's podcast, the availability of a good quality mic on hand can improve your status and make you stand out and save your day. Especially in environments where the audio is challenging a good quality mic can provide you a quality edge in the market.
A microphone isn't just a sound investment for content creators, there are plenty of reasons one should add this to their toolkit. 
5: Lenses for Smartphone Camera
Since the advent of smartphones, the camera quality provided by the companies has made rapid growth to catch the growing needs of the market. The pixel lengths and aperture of the cameras have come a long way.
But despite moderate-level upgrades in the technologies, there are still some limitations that cause difficulty for a creator to capture the best of shots with a phone camera. That's the situation where a Smartphone camera lens kit serves as a savior. Now you won't need to carry those bulky SLR lenses to capture quick content. The simple lens clip which takes seconds to install on your smartphone can give you shots ranging from macro to fisheye perspectives.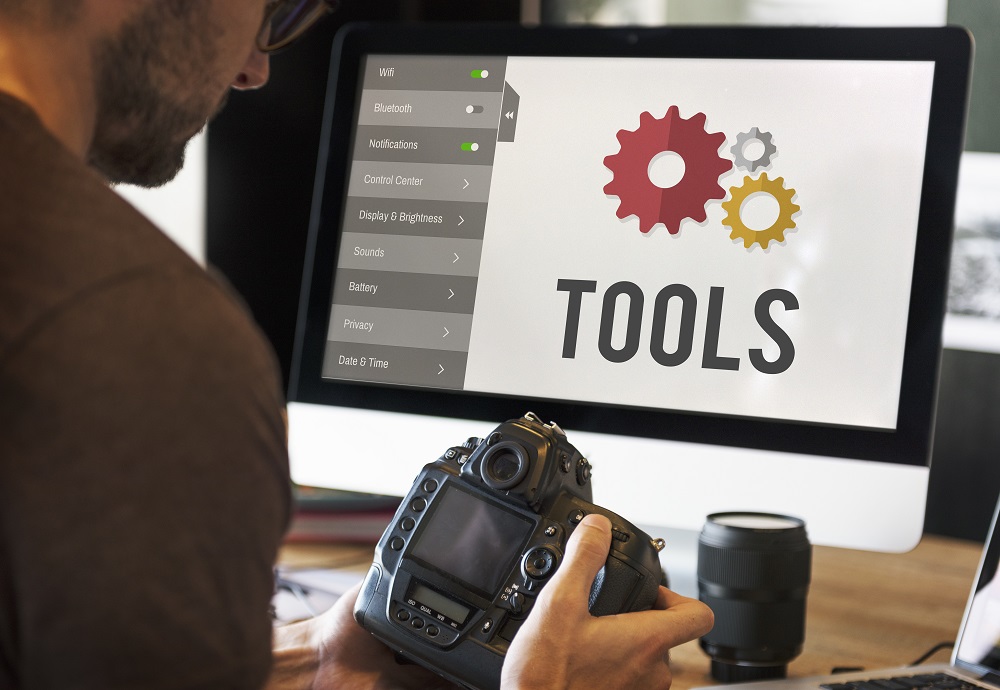 Also read – Top Social Media Sites To Consider In India
6: A Stylus Pen
A smooth way to escalate your precision, the stylus pen has come up as a blessing for content creators. Opting for a universal touch screen stylus can allow you to widen your creative reach. You can use it on almost all the devices available around you. If drawing with your finger on Instagram Stories isn't cutting it anymore, the power of a proper pen point is your easiest way out; for a precisely polished look of your content. 
7: Video editing applications 
Creating the best content for your viewers often involves thread and tear; honing your photography skills and in turn, developing editing skills too. Editing apps can turn out to be the content creator's best friend if know, how and where to use them.
One-click photography edits and animated Instagram Stories are a few of the best options available to content creators. Using video editing applications can help you wow your audience without a ton of work. A few such applications available for content creators are Lumafusion, Mojo, etc.
Using such applications which would make your viewers awestruck and lead to a 'how would you do that?' expression. The best part about this is you don't need to spend hours fussing over mundane content. In much less time with a video editing application, you can serve an aesthetic treat to your viewers.
A few mobile-only editing apps for your photos, like Tezza can make your photos feel warm and organic. And in case you need your content to be something a little brighter and colorful, A Color story; by A Beautiful Mess, has tons of filter options made by a variety of content creators.
8: Audiograms for Podcasts 
A graph that records sound frequencies in real-time and is often paired with a dynamic image of the person talking is called an audiogram. Through the course of time, audiograms have become a comparatively popular way to promote your content or podcasts across social media.
You can pair your preferred audio clip with a pre-made frequency visual element with the help of applications like Wavve. co etc. Easily you can create an account on these platforms. And with no effort, you can create an audiogram by uploading videos or photographs.
These types of posts are a great medium to repurpose your content in a visually eyes catching way. Also helps your engagements to perform really well. 
9: Social media is the key
A hue fair of contents, social media is developed as the biggest platform for creators. Staying on top of your work can be quite difficult at times, but some handy social media tools can help you to sustain your reputation in the competitive world.
Photographer, creative director, social media manager, and numerous roles to play. As a content creator, you're expected to juggle many hats at once. Some handy applications can make life easier. They can help you to plan or schedule your content on social media with ease. Pinefeed's built-in analytics can help you to analyze all your hard work. They can possibly make the corrective measure to rule out the deviations in the near future.
Applications like MixKit can help you to make some exceptional experiments in background music. This application has a variety of songs and clips to use for b-roll content.
10: Design your own graphics
To get a moderate edge over competitors, content creators usually juggle many hats. Graphic design is often the one that is thrown with pull thrust. Fortunately, sites canvas, projector and many more are options; they make it easy to produce and are pocket friendly at the same time.
Popular among all levels of content creators, can provide efficient and smooth features like drag and drop. Most social media managers have pioneered their engagement and increased the reach of their content with the help of this application. Canva is already equipped with some pre-made templates for social media platforms like Instagram etc. You can use their pre-made templates for Instagram, or even to jazz up for your next monthly social media presentation or report.
Plus, with a Canva Pro account, you can upload your brand's fonts and colors to make creating branded graphics a breeze!
Projector, is another masterstroke for content creators who wish to add the boost of graphics to their content. It will help you to create uniquely engaging videos. GIFS and social media posts with an emphasis on modern, trending design styles, and engaging videos that stand out from the crowd.
And to add more cherry to the cake, It requires almost zero design skills and is completely free.
Now that your content creation toolkit is equipped with affordable resources, you can start to create Instagram content that attracts new followers and keeps your current ones sticking around, too.