Instagram is a growing social media. It seems like Instagram was founded on the well-known phrase "A picture is worth a thousand words." People share their various updates via different features of Instagram. Instagram stories is one of such features of Instagram.
What are Instagram Stories?
Stories are either pictures or videos which can be posted on Instagram with a self-vanishing feature which lasts for 24 hours. Stories are like posts, but they disappear after hours unless you save them as your Highlight.
If you are looking to utilize the best out of your Instagram, stories are a must.
In this article, you will get to know everything from how to post your very first story to all the hacks in making your business stand out on Instagram.
Instagram helps its users to post a story or a video that disappears after 24 hours.
These stories feature was launched in August 2016, and now about half of the Instagrammers are posting a story every day! This has helped brands and businesses to get popular among the users.
Now arises the question- How can we use stories for growing business?
Whether you are an amateur or a beginner, this article is your solution to various queries for using Instagram for business.
How to use Instagram stories
To find stories, see at the top bar of your feed. There will be your profile photo with a plus icon (if no story has been posted) or a red circle around your profile picture (if a story has already been posted). Click on your profile photo with the plus icon to add a new story or click on "camera" logo besides "Instagram". You will find Instagram stories. If you want your story to be shared by anyone, keep your profile privacy as public as stories of private account can't be shared. A colorful ring will appear around their profile photo if there's something new to see.
If someone wants to view your story, the user can tap on your profile photo and the stories which have been posted by them in last 24 hours will be shown to the user from oldest to newest one in the chronological order.
A story can be viewed any number of time within 24 hours of posting the story. You can anytime go to anyone else's story by a tap on another person's profile.
Unlike posts, comments or likes can't be posted on the stories. However, your audience can always give a quick reaction or a message on the story, which will be visible in messages. For some stories, the reply action can be turned off.
How to post Stories
Method 1-
Tap on the camera icon in the top left corner. Click picture or record video by long press on the white circle
Method 2-
On the home screen, swipe left to get the story camera. Click picture or record video by long press on the white circle
Method 3-
You can directly post photos or videos from Gallery by selecting the share option and then selecting "Stories" with the Instagram logo.
You can also use a wide range of filters before posting the story.
How to use stickers
Remember, in school; you used to apply colourful stickers to your notebooks because they looked pleasant? Same is the case with stickers on Instagram. Stickers make the story graphically pleasing and mesmerizing. Just after you have finished with your picture or video, swipe up or tap on smiley face at the top, and you will find stickers of adding music, location, hashtag, mention friend and more.
Use of different stickers
Following are the functions of different types of stickers with their names.
Music: you can give background music to your story by your favorite song. It also allows you to browse songs. Songs can be selected as per your requirements and the placement of it can be changed. You can add lyrics automatically generated or remote all lyrics.
Location/Hashtag: you can give a location/Hashtag to your story. The benefit of adding location or a hashtag is that many times people search for a location or search by hashtag. In this way, people can find only if your account is public.
Poll sticker: this is a very interesting sticker by Instagram, which is very much popular. Once you have taken a photo or video for your story swipe up and tap on the poll sticker. People can vote based on your poll options given. You can use this feature to take suggestions for future posts or future products from your audience. Once someone has voted on your poll, the leading choice will be shown.
Countdown sticker: This feature lets people await for your big event with this countdown feature. To add this sticker,
Select countdown by swipe up in the sticker menu.
Name your countdown.
Set end date and time.
You will find other sticker options too such as-
DM ME: Type a question or ask a review about which you would like to know from your audience.
Challenge: Another trending sticker to challenge someone and nominate them in your story. Various challenges can be added by using hashtags.
Time: This is used to add the current time to the story.
Quiz: This feature lets you know from your audience about what they think of your story. You can ask them with options.
Emoji slider: Ask your followers a question with an emoji representing your question. They can post their answers by dragging the Emoji left or right.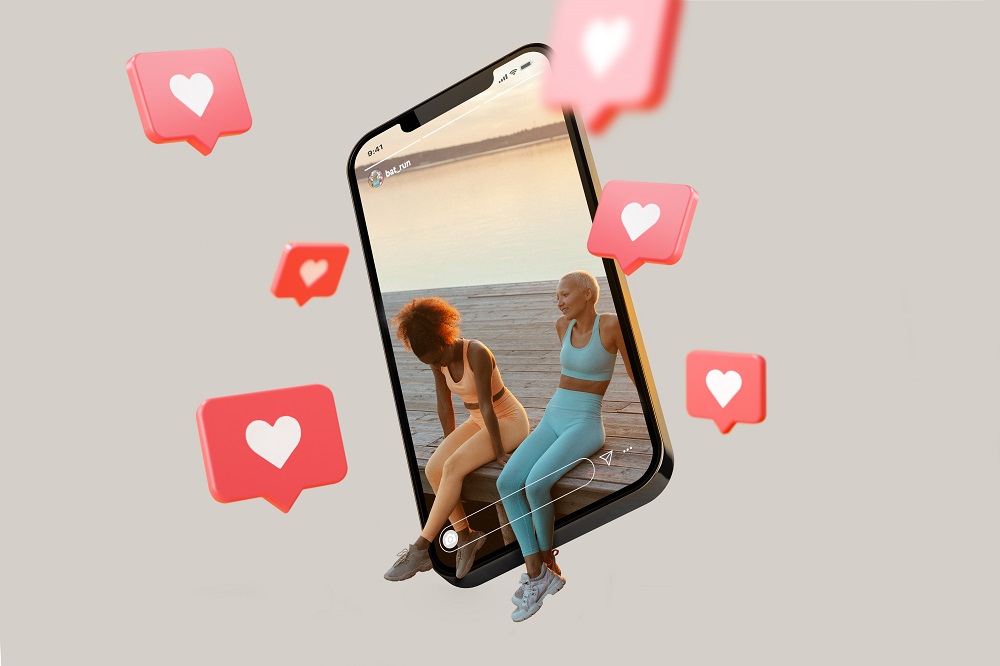 Also read – Creative Use Of Instagram Carousel Posts For Your Business 
Story Highlight and Story archive.
Sometimes you want your story to be visible more than 24 hours. For this, there is a feature on Instagram called as Story Highlight.
Post your story, and down in the right, you will find the option "Highlights". Add a suitable cover to your Highlight by a tap on "more" and you can edit your Highlight.
Now you can add your previous stories in Highlight. Stories you post are now saved in the archive section after 24 hours. So you can now have as many highlights as per your choice which will be visible to you on your profile and can be removed anytime you wish.
Privacy settings
Setting your account to private will only allow your followers to view your story. Whereas if your account is public, anyone can view your story. Story follows the privacy settings of your account. For maintaining a brand image, it is better to keep your account as public as people do not like waiting to receive access for your account. People like it quick and hence better option is to keep the account open.
You can limit your audience even in your story by sharing the stories to close friends. Add friends in close story list by going to your profile and tap on "Close Friends" in the side menu.
Analyzing your story
How to check views on the story
After posting stories, you can view who has viewed your story and which posts have got the number of views. You can watch this while viewing your own story, swipe up to see that who has seen each photo and video.
Few tips from our side
Simplicity – Keep it simple. Simple is sweet and sweet is good. The simpler the content, easier it is for the reader to understand it. A research conducted by The Guardian showed that simple static graphic and quick explaining videos performed better than their professionally made videos .
Consistency – Maintain a consistency with the theme of stories. Make sure that every story follows a similar format. Similar format can be same background colour or same font in every story. Consistency will help you create a style that your followers will recognize you and your brand in an instance. To maintain consistency, pay attention to following points-
Layout
Colour Combinations
Style of images and videos
Fonts
Usage of different font sizes
Interactive stickers – Use stickers to interact with your audience. An engaged audience starts associating with your brand and thus increases the chances of them becoming your customers. Your interaction with customers builds their trust with your brand. Few interactive features offered by Instagram for stories are-
Polls
Questions
Emoji sliders
Use these features to interact with your followers and make it easy for your followers to interact with you.
Why to use Instagram stories?
In this digital age it is important to have a digital presence. Everyone must use all the available resources available on internet to grow online presence. Use Instagram stories to harness the power of Instagram without cluttering your Insta. The advantages of using Instagram stories are as follows-
Distinctive – Even though each and every user gets the same features but by using the various combinations of features everyone's story had a distinctive feature which makes them stand out. Your stories help you and your brand stand out of the crowd to the audience.
Time relevant – Everything has a expiry date. Similarly Instagram stories also have an expiry date, or rather expiry time. You can use your stories to inform your audience about a limited period offer or essential update which exists for short period of time. Time sensitive content can be posted by stories without the hassle of removing them after a specific time period.
Focus on brand – The constant hammering of your update and your uniqueness helps the audience focus on your brand. Reach can be extended by trying various digital marketing strategies by Instagram stories.
Conclusion-
Instagram stories have helped many businesses to grow in this digital media as it has clearly replaced SMS and flyers which was the prime source of branding and publicity decades ago.
As you see now, the near future is a world full of electronic media and staying connected to it is simple and easier with Instagram stories. Change is the only constant thing in life hence being in touch with changes is highly essential.

Also read – How Does The Instagram Algorithm Work?