Gone are the days of advertising through newspapers or television, a strong and eye-catching social media marketing presence is a must for any business, and when it comes to social media, Facebook is the first that appears in mind.
Whether it is simply scrolling the news feed, catching up with friends or watching videos and stories, we inevitably spend a lot of our idle time on Facebook and more than 1.4 billion people all around the world do the same.
Ranging from artists to high end fashion stores, software companies, even schools and colleges add to the plethora of firms using Facebook to reach their target audience and promote themselves because with the large number of its users, it is next to impossible for any business or organization to not find their target audience on Facebook
The aim of this guide is to provide you with a brief idea on how to use Facebook for marketing purposes.
Contents
Facebook page : Create a home page to allow clients to reach you
Facebook algorithm: How it really works?
Facebook posts: Different types of posts and which one is the most productive?
Facebook insights: check and analyze your results
Facebook ads: Put your ad for the whole world to see
Facebook messenger: Answer queries and get in touch with potential customers
Facebook groups: Connect with multiple clients at the same time with this feature
Facebook page: Create a home page and allow clients to reach you
A Facebook page is identical to your real life store in the sense that you display the services you provide and potential customers approach you, the difference being the fact that it is way easier to manage and requires zero investment.
Making a Facebook page is a very easy and simple process as Facebook is a very user friendly application. All you have to do is open Facebook, go to the upper right corner and choose 'Create page' option from the drop down menu. Fill some basic details and your Facebook page is ready.
After creating a page, make sure that you fill out some basic details, to appear legit. These are:
Basic details about your business
A relevant profile and cover photo
A brief description of the services you provide
Personalize your Facebook page to suit you
Add co-workers
Start posting!
Facebook algorithm: how it really works
At any given moment, there are more than a million posts on Facebook; Therefore Facebook algorithm plays a key role in determining the reach of any given post.
In the beginning, Facebook used to display posts on the news feed in a backward in time fashion, that is, the latest posts were displayed on top followed by older posts. But with the increasing number of users and posts Facebook algorithm evolved accordingly.
Facebook algorithm now focuses on displaying only what a particular individual is interested in. for example, if someone likes or interacts with a particular page, say cat videos, they will see more posts from that page and other pages similar to it.
It must be noted that Facebook algorithm is evolving constantly with time and it is a must to evolve with it, presently, it is important for any page to gain more and more interaction in the form of likes, comments etc. from its followers. so it has become important to study your audience and post things they are more likely to interact with.
Facebook posts: different types of posts and which one is the most productive?
You can upload a wide variety of content of Facebook, in the form of:
Texts
Links
Images
Videos
Stories
Text:
A text post is probably the easiest to make, just type your ideas and post them!
However, this is the age of multimedia, and everyone is always flooded with content, so the chances of someone reading a complete text post are quite low. Hence, it is better to attach some image that catches the eye and intrigues the customer to read the complete text.
Links:
Link posts typically have an image, a short and catchy description of what the link contains and the link itself. These posts direct the user to other websites.
Image:
Image posts are a really convenient way of grasping the attention of the customer. The images can denote a particular lifestyle, create an impression on the customer and can ignite curiosity and interest.
Videos:
Videos are considered as one of the most appealing format of posting on Facebook. Make short videos and creative videos and upload them for your customers to see and interact with.
Stories:
Facebook Stories are an amazing way to keep in touch with your customers regularly while dealing with the hassle of daily life. Posting regular stories increases your chances of having a steady interaction with your customers.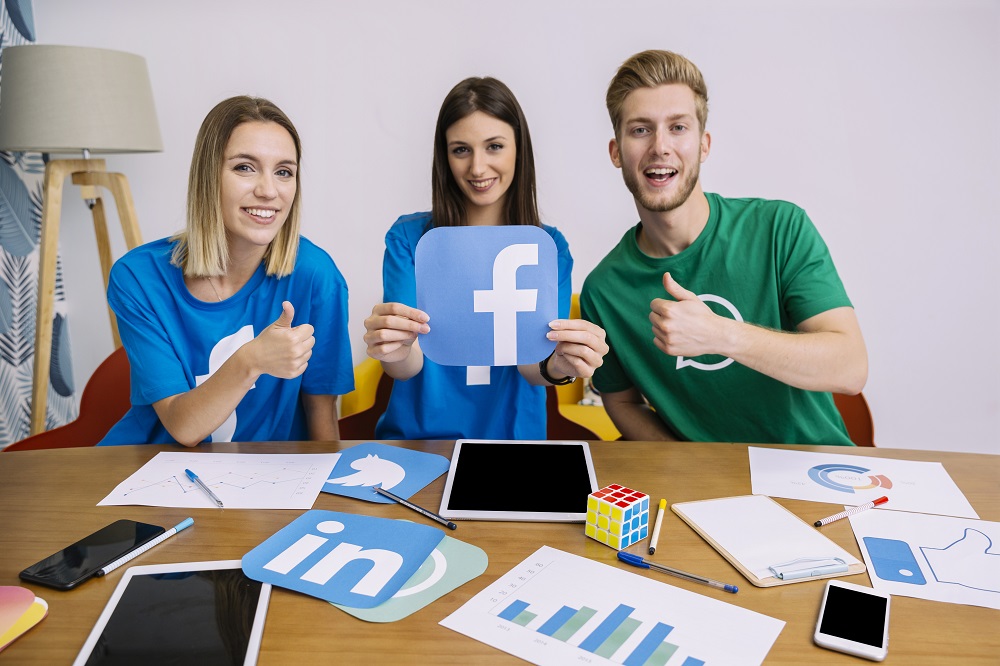 Facebook insights: Check and analyze your results
To help you with marketing, Facebook provides you with a very comprehensive tool in the form of Facebook insights. It allows you to have an in-depth knowledge of the reach of your page and the interaction occurring on it, in the form of likes, followers, events, reach, page views, branded content etc.
Facebook insights feature gives a very clear idea of the kind of posts that are more appealing to you followers and helps you study your audience better. Make sure to use this tool in the right way.
We can help you manage your Facebook page better. For any queries or consultation, tweet us @pinefeed.
Facebook ads:  put your ad for the whole world to see
The next level in Facebook marketing is Facebook advertisements. This is the part that you are supposed to do once you have gained a certain level of popularity and reach; as it requires investment.
Marketing through Facebook is an easy way to reach a worldwide audience. Millions of advertisements float throughout Facebook promoting all sorts of things. An added advantage of Facebook ads is that by using the Facebook ads manager feature you can displays your ads on instagram and other applications and websites other than Facebook.
The process to make your own advertisement is very simple
Select the purpose of your ad
Choose target audience
Select the places for the ad (instagram, other apps)
Decide your budget
Pick a framework for your advertisement.(image, video etc)
Facebook Messenger: answer queries and get in touch with potential customers
While posting regularly attracts customers, the key to maintaining a good number of followers is to be as responsible as possible. Clients approach Facebook pages of businesses to ask questions, details, to negotiate for prices among other things.
Facebook messenger is a quick and convenient way to respond to these queries. It lets you interact with customers all over the globe and helps you reach a wider audience. Interacting with clients gives you an idea about their choice, and hence you can use messenger for marketing by sending client- specific promotional content to them.
Facebook groups: connect with multiple clients at the same time
After gaining substantial number of followers, you can connect with a large number of clients at the same time using the Facebook groups feature. This allows you to inform extra details to the customers you want to, without having to post it on your page.
Be responsive and use the Facebook group feature right so that your customers attract more people to the group and help increase the overall reach of your page. To create a Facebook group, all you need to do is click on the, 'create group' option and fill the required criteria and you are ready to go. Make sure to constantly update content in these groups in order to keep the customers engaged.